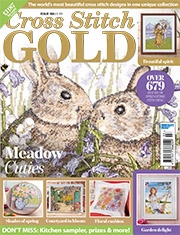 Cross Stitch Gold is a premium hobby magazine featuring large and beautiful projects from the world's leading designers. Each issue showcases eight designs, which include complex stitches and techniques using specialist threads and fabrics. Designed to appeal to the experienced stitcher, the brand provides helpful advice from the experts, along with reviews of large charts and kits. It's the brand people choose if they want their stitching to become a true work of art. For stitchers of mid-range ability, The World of Cross Stitching offers an excellent alternative.
Cross Stitch Gold has a huge archive of stitch designs and these can also be used in bookazine form. Get in touch now for more information.
9 issues a year
You may also be interested in...