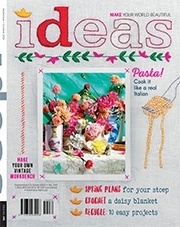 IDEAS - Make your world beautiful - a monthly publication from Media 24 Magazines. A quality magazine looking at craft, interior décor, food, monthly what's on guide, beauty and a general question and answer section.
Focused on the trend for up-cycling, recycling and keeping things simple.
IDEAS magazine will delight readers all round the world with its innovative ideas and projects.
12 issues a year
You may also be interested in...