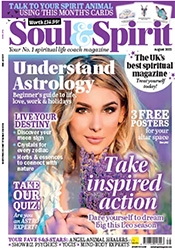 Soul & Spirit is the perfect magazine for those who want to explore and develop their spiritual side, improve their emotional well-being and hone their intuitive/psychic powers. Each issue contains guidance from the best life coaches, healers, astrologers and angel experts. It teaches the reader how to meditate, find inner peace and attract abundance. Soul & Spirit has celebrity interviews, book reviews and in-depth horoscopes. It guides readers towards a deeper understanding of their relationships and their spiritual path in life. It also has topics on tarot, crystals, angels, mediumship, positive affirmations, increasing wealth, health and love life.
People will always be fascinated by the spiritual world and Soul & Spirit is the top-selling title in its field. It will find readers anywhere and everywhere.
12 issues a year
You may also be interested in...