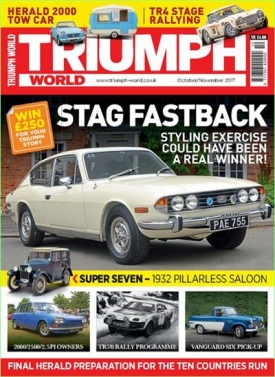 Written for enthusiasts of this popular marque, TRIUMPH WORLD features a comprehensive range of cars from the TR sports and Vitesse through to the Stag, Spitfire and Saloons with extensive model profiles, nostalgia articles and buying advice. The buying guides will provide information about getting the best deal and selecting the right car. While for readers who enjoy getting hands on there are essential practical features, technical assistance and maintenance advice. The club scene is important to Triumph owners, which is why it has its dedicated section in TRIUMPH WORLD where readers can find out the latest clubs news, events and local clubs.
Catch the excitement of owning a Triumph with TRIUMPH WORLD, the leading dedicated Triumph magazine.
This publication has appeal worldwide and can be licensed globally.
6 issues a year
You may also be interested in...