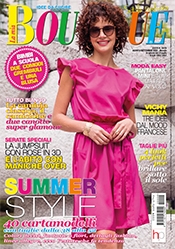 LA MIA BOUTIQUE is a magazine aimed at the audience passionate about fashion and sewing. Each month features 40 garments with clothes and accessories that ooze Italian style and the creativity of Italian designers. Inside there are 4 patterns of large format with the individual pieces available in true sizes and all the technical instructions and list of necessary products, cutting and packing information. In addition, each pattern has an indication of the degree of difficulty, ranging from 'easy' to 'expert'.
LA MIA BOUTIQUE is a quality magazine with wide appeal - available to license worldwide
11 issues a year
You may also be interested in...