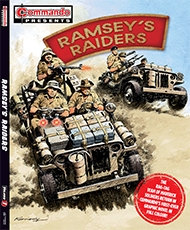 The first issue of Commando comic and featuring Ramsey's Raiders and here the original black and white pocket sized interior artwork has been revitalised with explosions of colour. The magazine describes a rag tag team of maverick soldiers operating behind enemy lines. They play by their own rules and are great at their job. The enemy have every reason to fear the approach of Ramsey's Raiders! A gripping example of comic book military action.
Led by the roguish Captain James Ramsey, Ramsey's Raiders are a motley bunch of soldiers that comprises two Scotsmen, an Englishman, a Welshman, an Irishman, and an Australian. Great comic book drama.
You may also be interested in...