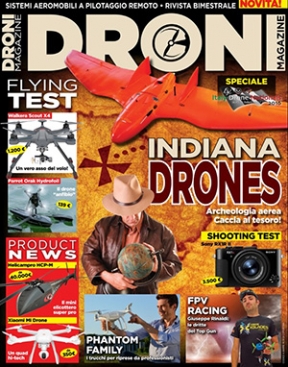 DRONI Magazine - The "state of the art" on the world of drones, or unmanned aircraft systems, explained exhaustively in a bimonthly with numerous colour photographs. The choice of components for the assembly do-it-yourself, small maintenance, the main types of conformation with strengths and weaknesses of flight stability and recovery, the vast range of accessories and selection criteria. Drone-toy models for professional photography and filming, photometry, agriculture, telemetry, surveillance and civil protection. Flight schools and the latest updates in terms of regulations, red tape and insurance, to large planned developments regarding the world of work by the activity of resale in the photo-shooting professional video, from construction to spare parts and all ' assistance. Finally a small guide-market with features. services and prices of many of the most popular models on the market.
This publication has wide appeal. Also available as a special/bookazine comprising of 132 pages.
You may also be interested in...