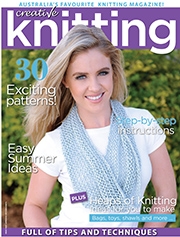 CREATIVE KNITTING magazine just keeps getting better! This year sees the launch of a fresh new look for the magazine, as well as clearer, easy-to-follow patterns and colour-coded sizing.
Published quarterly by Woodlands Publishing Pty. Each issue of CREATIVE KNITTING features more than 25 designs echoing the latest fashions, home wares and accessories.
4 issues a year
You may also be interested in...